Used Boats:
227
Adverts Displaying:
21
-
30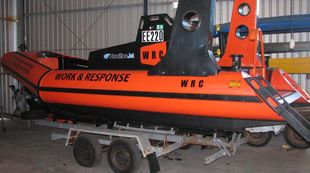 Ideal for rescue/tender etc Brand new Yanmar 200 hp diesel with new Hamilton Jet, both with eleven hours. She is constructed from Polyethylene PE is impervious to corrosion and electrolysis, also UV stable and impact resistant. She is built to USL specifications with an 800kg Bollard pull. Heinriekson quick release hook is platform ready and includes all safety equipment icluding fire flaps and fire suppression system. She is also self righting and mercury cut off switch to SOLAS class to avoid engine damage. On a trailer and custom poly cradle is also available. A very dur...
read more
Length:
6.5m
Location:
Western Australia Australia
Price:
$195,000

View Details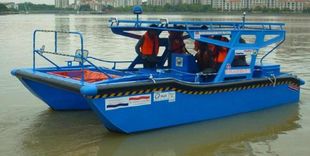 1) The sleek and upmarket design and look of the Scavenger 18 makes it an unobstrusive workboat silently working at any worldclass marina or waterside residential areas. 2) It is in operation worldwide in canals, and upscale marinas for the easy cleaning and collection of floating rubbish, seaweeds, plastic bottles etc. Motorised Rotating Stainless Steel Bascule Filter Cage makes clearing floatsam effortless. The rotating basket can pickup 20kg per load and the boat has a total load capacity of 250kg of floatsam. 3) The Scavenger 18 is also easy to maneuver,Not Require any fuel using the...
read more
Year:
2015
Length:
18'
Location:
Singapore Singapore
Price:
SGD 140,000

View Details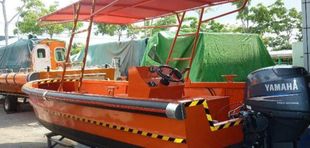 Looking for a small and extremely tough boat that is both practical, safe and reliable, the 18 Workboat is for you. The 3mm thick aluminium hull with double bottom foam filled construction makes this boat virtually unsinkable even when completely flooded. The open cockpit designs has several variations to cater to different needs and uses. It also has a self draining cockpit that will drain water naturally and quickly. No electrical bilge pumps are required which makes the boat easy to maintain. Hull Length 18ft (5.39m) Beam 6ft 0ins (1.82m) Weight Approx 350 kg Recommended Powe...
read more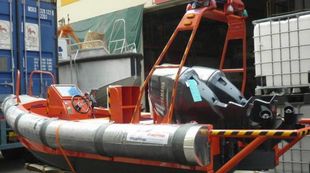 The Rescue 20 is Built solidly with marine alloy hull and fitted with Specially formulated light weight High Impact, Bullet-Puncture Resistant PU foam fendering system.Our fenders are closed cell and coated with double braided Polyurethane skin to ensure that it is strong and yet light. The boat is approved according to SOLAS Chapter lll, Reg 7,1.2 & Reg 8,2.1 LSA Code 5.1.1.3.1,4.4.2.2.2,4.4.2.3 & 4.4.3.5 Suitable to be used as a Patrol Craft,Fast Rescue Craft,Workboat. A. Standard Configuration: 1) Multiple Chambers construction, Unsinkable 13" D Fender. ...
read more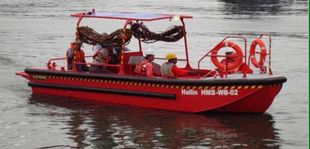 A versatile vessel that can meet the requirement for a diverse range of roles. The vessel is not classed. Standard Configuration: 1) Multiple Chambers construction 2) Marine Grade Aluminium Alloy Construction 3) Multiple Transverse & Longitudinal Frame Reinforcement structures under deck 4) Reinforced keel and chines 5) Aluminium alloy deck full welded with non-slip surface 6) Self Draining cockpit deck with twin drainage hole and scuppers on port and starboard side. 7) Non-slip walk-around walkway 8) Four Nos alloy rope cleats welded to gunwhale 9) Heavy duty wide sec...
read more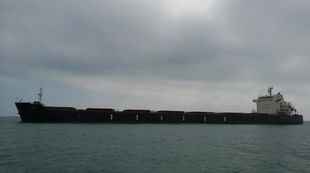 Two carriers for sale, 2011 and 2012 build. 75,704DWT (summer). LOA 225m x 32.26m. Powered by MAN B& W5S60/HHI, 8833kw engine. 7 hatches total 90,066m³ grain. Class CCS/11A0216, not. CSA & CSM AUT-0 Laden 12.7kts / 89rpm / 27MT/day, Ballast 13.2kts / 89rpm / 26.5MT / day. The vessels can be inspected in China by appointment, available charter free for prompt delivery. Please feel free to contact us for further details....
read more
Launched in in 2006 in current BV class, this vessel is on hardstand and available at extremely good value .​ This 45mtr Multi Purpose vessel is available for prompt delivery ex Indonesia where she is currently laid up on hardstand. There has been some damage to the vessel that requires repairs. LOA 45m x 11.8mtrs. Class BV I + Hull x Mach, Supply Vessel, Unrestricted Navigation.Powered by twin Cat 3512B engines (1775hp ea) with BP of 40t. Bow Thuster Volfer Mok 280L, 5T thrust. Aux engines are 3 x Cat 3406, 249kW. Clear deck area 197.8m3, loading 5tm2,capacity load 400t. Total accom for...
read more
This Damen Fast Crew boat is in current BV I +Hull +MACH Light Ship/Fast Utility Vessel Sea Area 2 with 29 person capacity with 1 crew. LOA 16.15m x 5.4mtrs with shallow draft of 0.85mtrs. Aluminium hull with GRP superstructure. Powered by twin Cat C18 engines (1000bkW) with Rolse Royce FF3755 jet propulsion with speed to 30 knots. Suited for bow loading. Located in Qatar region and available for inspection by appointment....
read more
This Damen Fast Crew boat is in current BV I +Hull +MACH Light Ship/Fast Utility Vessel Sea Area 2 with 12 person capacity with 2 crew. LOA 12.56m x 3.85mtr with shallow draft of 0.8mtrs The Hull is Aluminium with FRP Superstructure. Powered by twin Caterpillar C7, 470bkW engines with Ultrajet 340 propulsion. Speed of 21 knots. The well proven Damen design enables smooth transit and comfort for passengers in fully airconditioned comfort. The vessel is located in Qatar region and available for inspection by appointment. For a more detailed specification, please feel free to contact us....
read more
Launched in 2012 in current ABS+A1(E), Towing Vessel is available for sale or for charter. LOA 28m x 11m x 2.275m. Powered by twin cat 3412C DITA 720hp ea. Twin cat 3406 aux engines. Electric Hydraulic Anchor Windlass 2t@10m/min Single Gypsy suited for 19mm dia stud chain link, 2 x 300kg Stockless Anchors. 2 x 25t FASSI cranes (bow and stern) Towing hook, winch and wire. Class approved Anchor Handling A-Frame. Very extensive electonical package. Accom for 13. Located in Western Australia and available for inspection by appointment. For a detailed specification, please feel free to ...
read more